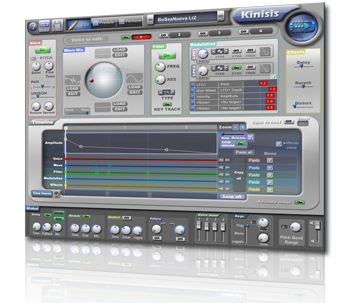 New release: Kinisis synthesiser with the innovative Timeline interface
This synth combines great sound with a powerful and flexible user interface. Sounds are designed by 'animating' the synthesis controls over the course of a note. Its ability to shape sounds in this way goes way beyond what traditional ADSR envelopes offer.
The video on the Kinisis page demonstrates this better than words can, so take a look at this inspiring instrument in action. Visit the Kinisis webpage
Supports Windows (VST) and MacOSX (AU / VST).
Soup and Shapeshifter price drops:
These powerful and easy to use plug-ins now have an added new feature: they're a bargain! We're offering them with a discount of 45% off the original price, making this the best time to pick up a copy. Don't forget, buy them together in a bundle offer for a further discount!
Bundle offer:
The Windows plug-ins Soup additive synth and ShapeShifter multi-effect make a great partnership, and with our special bundle deal you can buy both for 20% less then buying them separately. Follow the links for more info:
© Copyright Alexandros Gounaropoulos